Have you ever been affected by delays or cancellations at an airport? Or are you worried about this happening you? Well fear no more! I've put together some great tips on how you get compensation for delayed flights.
Who is entitled to compensation for delayed flights?
The Regulation EU 261/ 2004 provides compensation (fees may apply) and assistance for passengers if their flight:
Departs from an EU airport

Arrives at an EU airport from outside the EU but with an EU carrier

Is cancelled or arrives at least 3 hours late or more
What am I entitled to if my flight is delayed?
Long delays of 2+ hours to your flight (depending on the distance of the flight) = free meals and refreshments + 2 free telephone calls & emails.

Long delay of 5+ hours = full refund of the ticket within 7 days

Delay of departure until next day = hotel accommodation & transportation costs covered by the airline
Note: If your airline does't offer this assistance, make sure that you keep your spending costs low and keep the receipts. You can claim a reimbursement from the airline when you return home.
Can I get a full refund if my flight is cancelled?
Under EU regulation you are entitled to:
A full refund of the cost of the ticket within 7 days (fees may apply)

A substitute flight to your destination from another airport (additional travel costs will be covered by the airline)

A replacement flight outside the strike duration (usually limited to a 12-month period)
Can I claim compensation if I am affected by a strike?
This depends on whether the airline is legally obliged to provide compensation if the flight is affected due to reasons beyond their control e.g volcanic eruption, a strike, extreme weather.
Depending on who is striking you may be able to claim up to €600 in compensation from your airline.
Example policies of airlines:
Ryanair

You may be eligible to claim monetary compensation if your flight was delayed more than 3 hours on arrival or cancelled within 14 days of departure.

If the delay or cancellation was unexpected and therefore outside of our control (extraordinary circumstances) no monetary compensation is due under EU Regulation 261/2004.

Easyjet

Delays of more than 3 hours = they provide you with refreshment vouchers

If you're delayed overnight they'll find a hotel for you and provide transfers and make sure your meals are covered

If your flight is cancelled we'll get you onto the next available flight or if you'd prefer we'll give you a full refund

When the delay is their fault they'll also pay you EC261 compensation to cover additional expenses such as car parking or ongoing travel.

If the cause is beyond their control then you won't be entitled to this additional compensation but you should check with your travel insurer to confirm they will cover these costs.

TUI

Major changes to your holiday for which they will pay compensation unless the change is for reasons beyond their control

If the delay or cancellation was unexpected and therefore outside of our control (extraordinary circumstances) no monetary compensation is due under EU Regulation 261/2004.
What steps do I take to claim compensation for delayed flights?
Complain to the airline

:

Most airlines have a complaint form to fill which you will usually find under 'Contact Us'.

TUI Contact Details

Use an adjudicator or regulator to take the claim further

: If the airline rejects your claim don't worry you can take it further through a regulator or an adjudicator.

Take the claim to court

:

If the airline still reject your claim or you are unhappy with the outcome of your claim then you can take them to court. The court may refuse claims if they date back more than 6 years in England, Northern Ireland and Wales (five years in Scotland) so be sure to keep this in mind.
Your Rights
According to European Commission Regulation 261/2004 and Turkish Regulation On Air Passenger Rights, if your flight was delayed, you are eligible for compensation. The flight must satisfy the necessary conditions.
The compensation for delayed/cancelled flight or denied boarding can be €125-€600. The amount can vary with flight distance and delay duration (below you can find detailed information on the compensation size).
The condition is that one of the following happened to you:
Your flight is delayed for more than 3 hours
Your flight is cancelled
Your flight is delayed for less than 3 hours, but you miss a connection flight and arrive to your final destination more than 3 hours late
You were denied boarding because of lack of vacant seats (overbooking)
Other conditions:
The flight must not be delayed due to weather or other extraordinary conditions.
The flight must have been commenced no later than 6 years ago;
Your flight route and airline should comply with certain criteria to fall under the regulation of the EU law

…or the Turkish regulation

Compensation calculation
You can calculate your compensation with the help of the table below or via our calculator absolutely free. The compensation amount varies between €125 and €600. Average compensation among our clients amounts to €450.
Passenger rights
Above all, the compensation is only a supplement to the relief provided by airlines for the passengers of delayed flights. The provisions must include:
Refreshments
Free meals appropriate to the delay;
Free hotel accommodation if an overnight stay is required;
hotel transfers if an overnight stay is required;
Two free phone calls, faxes or emails;
However, you are not entitled to compensation if:
You were informed about the cancellation 14 days prior to the flight;
The airline has offered you an alternative flight on the same route and time.
In case of flight cancellation due to extraordinary circumstances, the airline has to offer its passengers one of the following:
Ticket refund (full price or the unused part of it);
An alternative transport to your destination;
Rebooking your flight to a later date, providing that it fits the passengers and the airline.
Compensation for denied boarding
In case of overbooking the airline must first look for volunteers who wish to abandon their booking in exchange for particular benefits. The airline must provide these volunteers with two options:
Full refund of your ticket price;
Route change.
If the passengers opts for route change, the airline must provide him further support. It may include meals and refreshments, telephone communications, accommodation and transportation from the airport.
If you are not willing to abandon your booking and you are denied of boarding, you are entitled to compensation of €250-€600 for every passenger in addition to the full price of your ticket
You can estimate your compensation via our calculator or with the help of the table below, except for the flights within Turkey. The compensation is fixed to 100 euros for such flights.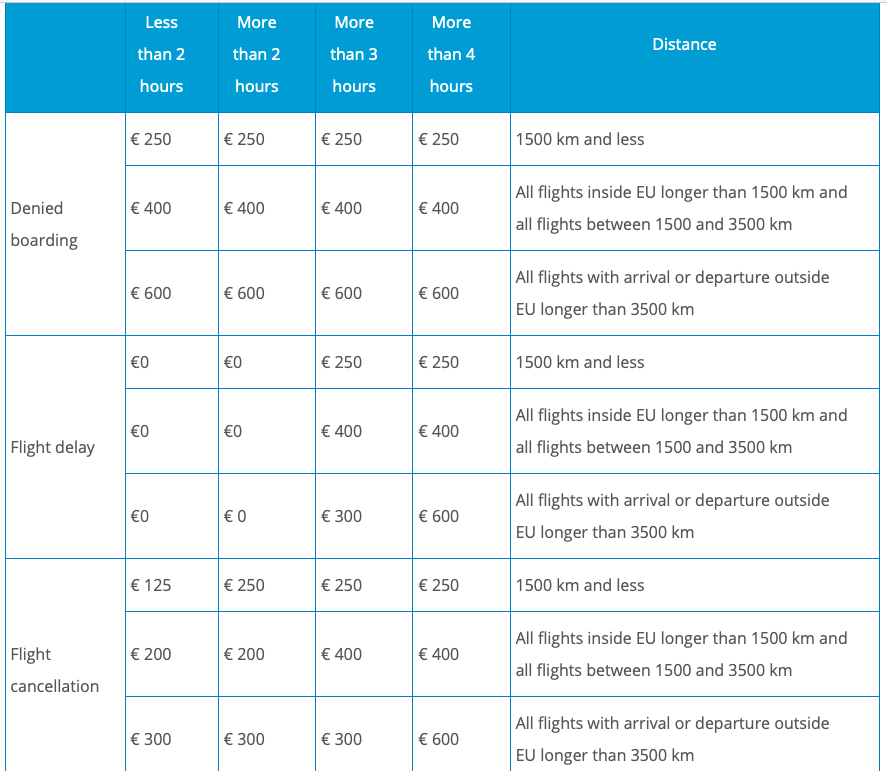 Will my travel insurance cover any additional costs?
In some cases the airline may reject your claim for compensation for delayed flights, in which case your insurer may be able to help! Check the terms and conditions of your policy to see what situations it will cover. You may also receive payment to cover hotel costs or alternative transport you require; the airlines should provide this by law, however, as previously stated.
Happy holidays!